Oak Class (Year 5 and 6) Topic Webs 2018-19
Mrs Shobbrook teaches Year 5 and 6 and firmly believes in combining hard work with exciting and interesting learning opportunities. Our first learning topic is called 'Hola Mexico!' where Year 5 and 6 will learn all about this fantastic country. A trip to a chocolate maker is currently in the pipeline as is the cooking and tasting of some delicious Mexican food.
We are incredibly fortunate to have a teaching assistant each morning called Mrs Cuthbert. She also works with many children in Key Stage 2 every afternoon leading curriculum support groups.
During the year, Oak Class will participate in an exciting school residential trip. More details to follow soon! At the end of the year we celebrate our talent and put on an end of year play for the school and our parents to enjoy. Year 6 also have the grand responsibility of building and racing our own kit car and taking part in the Uckfield Grand Prix.
Mexican cooking
On Wednesday 12th September, Oak Class participated in a Great Mexican Bake Off event.
We all had a fantastic morning and baked our own 'black bean and cheese empanadas'.
A timeline of Mexican history
We created our own timeline of Mexican history using canvas and water colours. Here's a snapshot of a few of our creations. Do pop into our classroom to see the completed timeline.
year 5 and 6 have many challenges to face in learning this year. However, Being so close to the Ashdown forest makes us think of A.A Milne's words of wisdom.
Science
Oak Class are learning about the circulatory system in Science in term 1. In the spirit of hands on science investigations, Oak class have dissected a sheep's heart to explore it's main features.
The class did fantastically well and discovered that animal hearts smell!
In week two we looked at the main components of blood and created our own blood potions to help us remember each component.
End of term bake-off
To help write our stories 'The Day of the Dead', Oak Class enjoyed immersing ourselves in some cooking. We all made 'Pan de muerto (Day of the Dead bread), an orange infused bread commonly eaten during the festival. We found that the addition of orange in the mixture created a lasting aroma that inspired us when we wrote our Day of the Dead stories.
Learning and growing together. Oak class sharing stories with the youngest members of St Michael's.
Term 2
This term Oak Class's learning has been split between World War One rememberance and then chocolate.
As it was one hundred years since the end of the First World War we spent time reflecting on this important historical event.

We began by constructing our own war time street and learned about a street called 'Chapel Streetl' known as the bravest little street in England. We also laid a wreath in our local church and wrote poems reflecting on our learning.
Chocolate
Oak Class began this topic of learning by a trip to a local chocolate maker in Tunbridge Wells. As you can imagine the class thoroughly enjoyed their morning. where they got to design, make and of course eat their own delicious chocolate.

We have since learned where chocolate first originated, where Cacao trees grow and who first imported chocolate to Europe.
Term 3 Survival
In the cold, bleakness of January, what better subject to learn than 'Survival'. Oak Class will be learning all about the polar regions of the Earth and learn about some famous expeditions too.
Here we all are on the first day back at school recreating a photograph of Ernest Shackleton's crew.
Reading cafe
Oak class are avid readers and enjoy the opportunity to share their favourite books. Today we opened a reading cafe where we all enjoyed a range of new books.
A-life workshops
On Thursday 17th of January, the whole school were visited by an organisation called A-Life. The aim was for our pupils to learn about healthy eating and the importance of exercise.
Oak Class had a brilliant day and as you can see they all enjoyed every aspect of the circuit session.
Term 4 Evolution awaits Oak Class....
Author visit
On Friday 1st February, we were incredibly fortunate that the author Vashti Hardy was able visit our school.
Vashti is the author of Brightstorm and has inspired our class with her wonderful skyship adventure story.
Polar explorer workshop
On Wednesday 30th January we were visited by a STEM ambassador. Oak class were taught how to program a propellor using an ipad.
Evolution topic
Ship Ahoy! We're off on an exciting expedition with Charles Darwin and his crew on HMS Beagle. We will be tracing his route across the vast ocean and stop at the magical Galápagos Islands to see the amazing species that helped Darwin develop his theory of evolution by natural selection.
Do you know what's so special about a lava
lizard? Or why the blue-footed bird has blue
feet?
We will see how animals adapt to their environment over time and meet some of the world's greatest explorers too.
Science teaching
This week Oak Class have discovered that it is possible to extract DNA from strawberries. Here we are making carefuly observations as scientists.
Comic relief
For Comic Relieft this year, all pupils were encouraged to make or bring in a wacky hat and a red nose. Here we are having a quiet moment. Shortly afterwards, we all dashed off to do some data handling about our most favourite red nose design.
Skellig - by David Almond
This term, Oak Class have been reading Skellig as the book links with our theme of 'Evolution'. More importantly it is a fantastic book and our class have really enjoyed reading it.
One home learning task was asking the class to create a story jar about the book.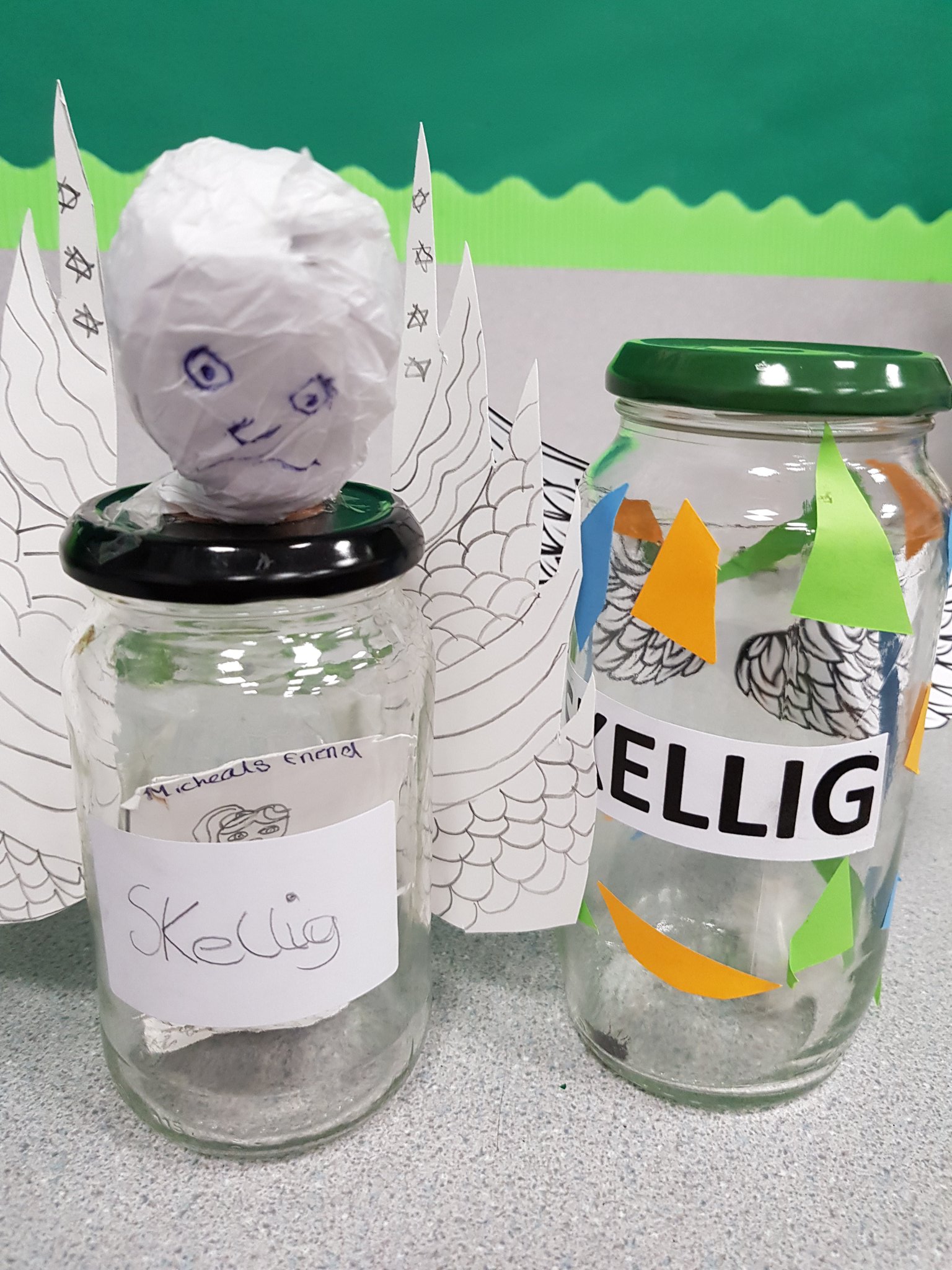 We contacted Skellig's author to tell him how much we have all enjoyed his book. It was great to get a reply!
My class are really enjoying the story, so huge thanks for creating such a wonderfully written and engaging story.
"Hello to them. Happy reading!". David Almond,
Summer term
Well, it's the final countdown for Oak Class as we begin the Summer Term. It's certainly going to be a busy term: SATs, history workshops, archaological digs, Sports Day, class residential to Tollesbury, Uckfield KIT car rally, summer concert. Phew we have so much in store for our beloved Year 6 as we really want to make sure their last terms are memorable (and not forgetting Year 5 of course)
Day 1 began with an archaeological dig and the cooking of some traditional Anglo-Saxon dishes.
Anglo-SAXOns
Oak class on an archaeological dig for treasure.
Vikings
Viking workshop
We ended Summer Term 5 by participating in a workshop led by Crew Primary Uk. We all had a brilliant morning learning about the Vikings in preparation for our work after half term.
Oak Class Superstars - Mimi
Mimi is a Year 6 pupil and has got through to the second round of BBC Radio 2's 500 Word Story competition. We are all hugely proud of her and think that she is a fantastic writer. Her imaginative story is below. Well Done Mimi!
A Beggars Wish
The rain was beating down and the icy winter wind whistled around me. I quivered and could not stop my hands from trembling. I curled up into a ball. I pulled my woollen hat below my ears and my threadbare scarf tight over my mouth and nose, in an attempt to keep out the cold, revealing just my eyes to the elements.
I had carefully placed a handwritten sign next to my trusty soup tin in front of where I sat.
"Excuse me, spare any change please sir… miss?" I have committed no sins or wrongs; I am innocent yet my voice is not heard.
I watch the legs of suits owned by business men and women, skinny jeans and tracksuit bottoms, always scurrying, never time to stop.
I do not seek sympathy just an ounce of goodwill. Seemingly not in the dictionary for most.
It took me a while to notice him. Standing, staring, stumbling towards my bedraggled face and dishevelled body, in a curious but obliging manner; asking simply, "Why are you sitting on the ground?" He must have been no more than six years of age. When I didn't answer, he continued; "it's raining, you're wet. It's cold".
He wore a bright blue raincoat and vibrant yellow wellingtons. His tiny oval shaped glasses, which were speckled with rain drops, matched his tiny oval shaped face.
"What's your name?" he asked. "I've just been to the library". Just then I noticed a blurred shape behind the nameless child. A woman, waiting in the background. His parent no doubt. She didn't approach me but watched from a short distance.
The child sensed it was time for him to go home. Back to his warm house and beans on toast.
He held out his hand. A shiny pile of gold sat in the middle of his palm. I held out my hand. I caught my lunch, dinner and salvation for the day in one grateful go.
The unyielding bones in my lower jaw loosened uncharacteristically easily as I released (just about) a smile. The child beamed at me and then was gone.
Oak Class Superstars - Megan
During the Easter holidays, Megan was feeling saddened by the loss of a relative. She decided to turn a negative into a positive and completed a ten hour readathon. Megan successfully raised over £300.00 for Macmillan Cancer Research and we are all hugely impressed and inspired by her efforts. Well Done Megan! We are all incredibly proud of you at St Michael's..